The imagery of this set contrasts elements of floating (such as whales' behaviors) and collapse  (such as sink holes in urban areas).  My process was initially inspired by the surrealist technique of Decalcomania,  and uses mono printing, silkscreen and other processes to create a layered atmospheric space.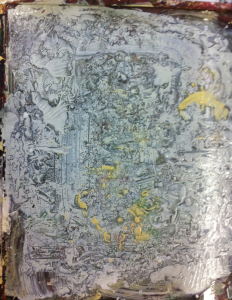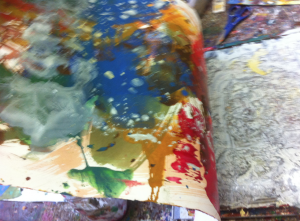 Paint
Since the mid-eighties I have made my own paint. Even in the best paints, the pigments are overly processed (ie: ground too finely) and contain far too much glossy binder. I have developed a mixture using Kremer dispersion K , Golden's GAC 200 and 400 and powder pigments to achieve an fluid acrylic paint with matte finish like gouache (opaque water color).
My process involves mixing small batches of paint and applying it directly on my paintings. Making paint involves grinding pigments and water into a paste with a muller on a glass palette. Grinding times depend  on the type of pigment: I will under-grind the natural colors such as sienas, umbers so they do not loose their beautiful qualities, just enough so the paste will mix easily into water and binder.
To keep my palettes fresh and my mixing unpredictable,  I use Colourlovers.com and other found palettes to generate new palettes.